Hello, all you Chancellors!
This is Onishi, Producer of That Time I Got Reincarnated as a Slime: ISEKAI Memories!
Thank you for playing the game!
We've been sharing quite a bit via these Developer Diaries up until now...
But I'm glad to announce in this particular Developer's Diary that there's something special in store for you!
Here in Japan, companies like ours get new employees in April, which means our newbies have gotten a hold of things by now...But, newbies are newbies, and they're a decade removed from yours truly! Regardless, we're all working hard on Slime IM!
Okay! Enough with the formalities!
Let's get to today's new characters and updates already!
■New Story Event: Rimuru's Bride Battle!It's here, baby!

*Visuals are currently under development.
<Breakdown>
Deep in a Tempest warehouse, Rimuru happens upon... a wedding dress?
What a wake up call!!! Who, oh who might be the blushing bride-to-be?! All of Tempest is dragged into the contest!
But just when nuptials are about to be spoken... a new playable character, Shinsha takes the spotlight!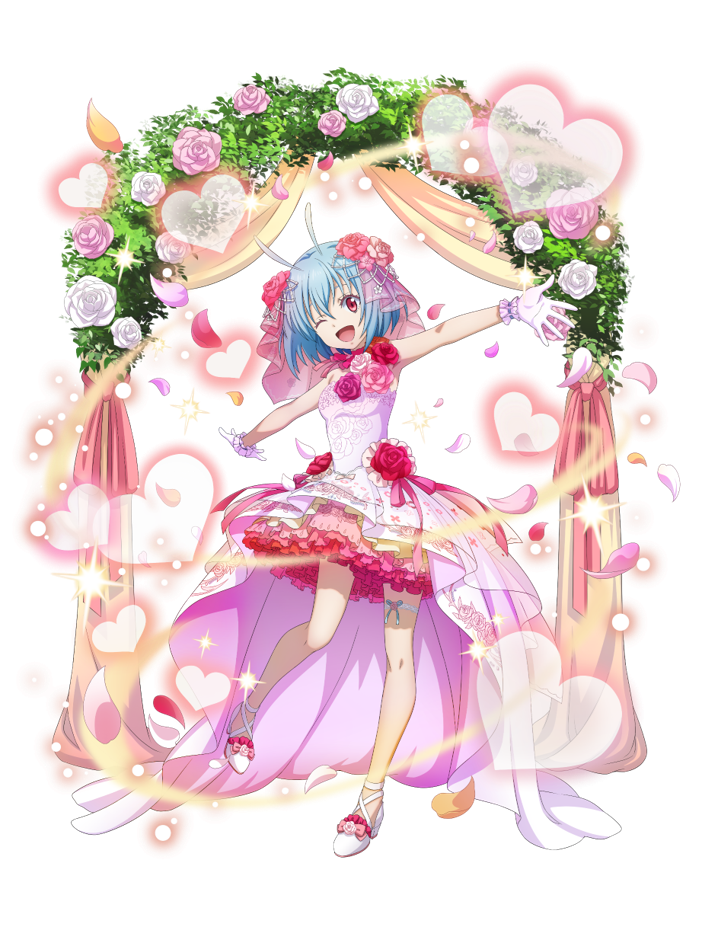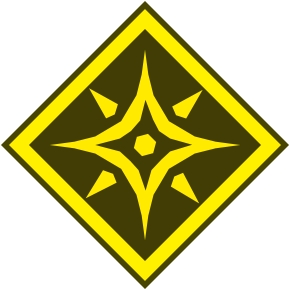 Shinsha, Precocious Bride
*Visuals are currently under development.
*Image is of her 6★ form
*Players will receive in 5★ form.
You've been waiting, and now she's here!


And if you log in now for this event, you'll be sure to get her for your party!
The daughter of Slime IM is finally here as a playable character!
We want all you Chancellors out there to get her in your party, so make sure you log in to get Shinsha as a reward. Make sure you check out the video of her Secret Skill, too!
Don't miss this chance to get your hands on Shinsha, the Precocious Bride, a light attribute character!
Period: From 5/31 until 6/30 14:59 (JST)
■New Recruit "Rimuru's Bride Battle!" is on now!
Is that... Shizu... and Shion... both in bridal gowns?!
The prim and proper Shizu is in her elegant gown, but there's also Shion in her own dazzling getup. Both of them have skills that give them a higher chance to pierce depending on the number of skills they use in a certain number of turns! Don't miss out on these excellent additions to your party!
Plus, Shizu, the Dream Bride's Divine Protection boosts light and physical attacks, the first character to feature a physical attack boosting Guidance of Divine Protection!
She's sure to be an excellent addition to any party, so make sure you make her a friend of yours!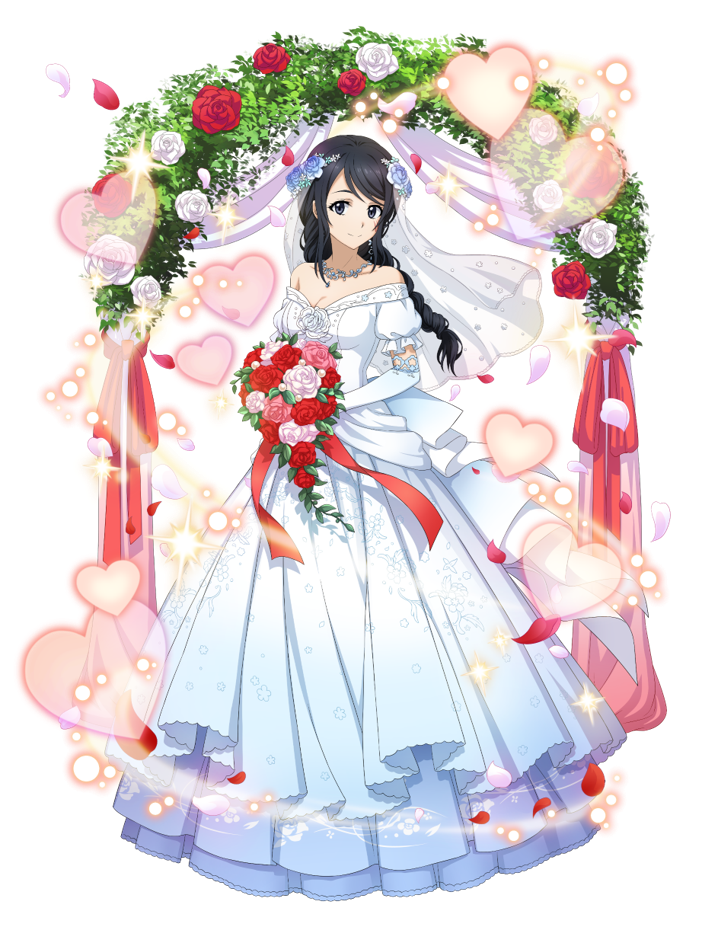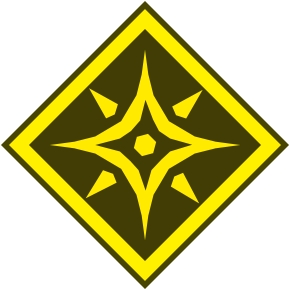 Shizu, the Dream Bride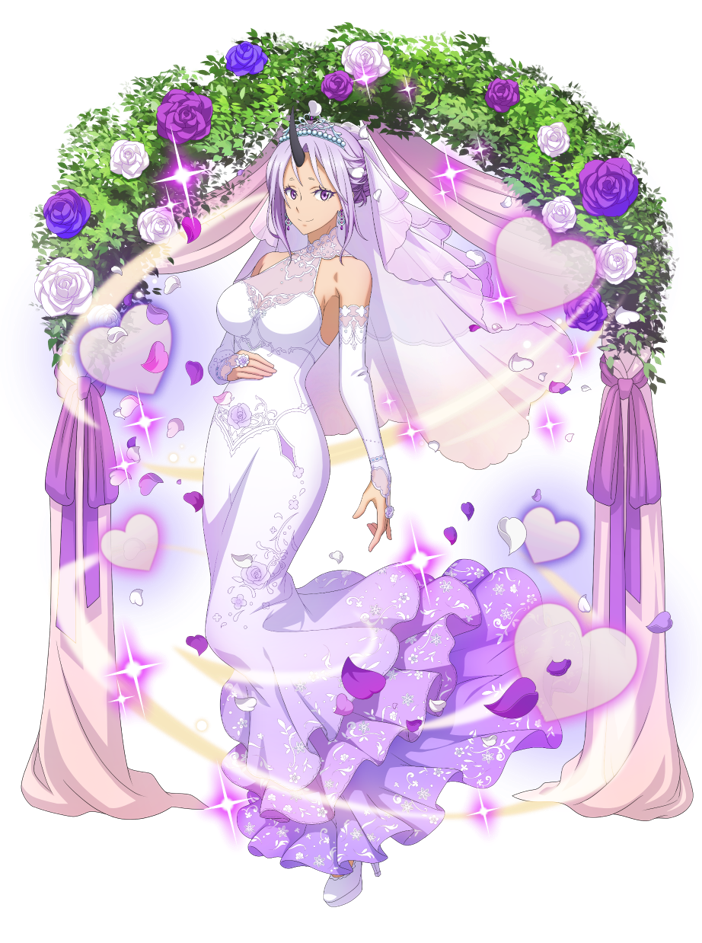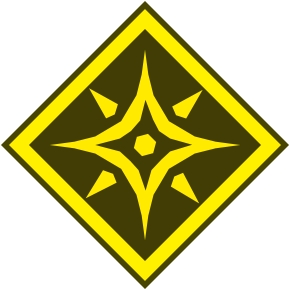 Shion, the Runaway Bride

*Visuals are currently under development.
*Images from their 6★ forms
*They will appear in Recruits at 5★.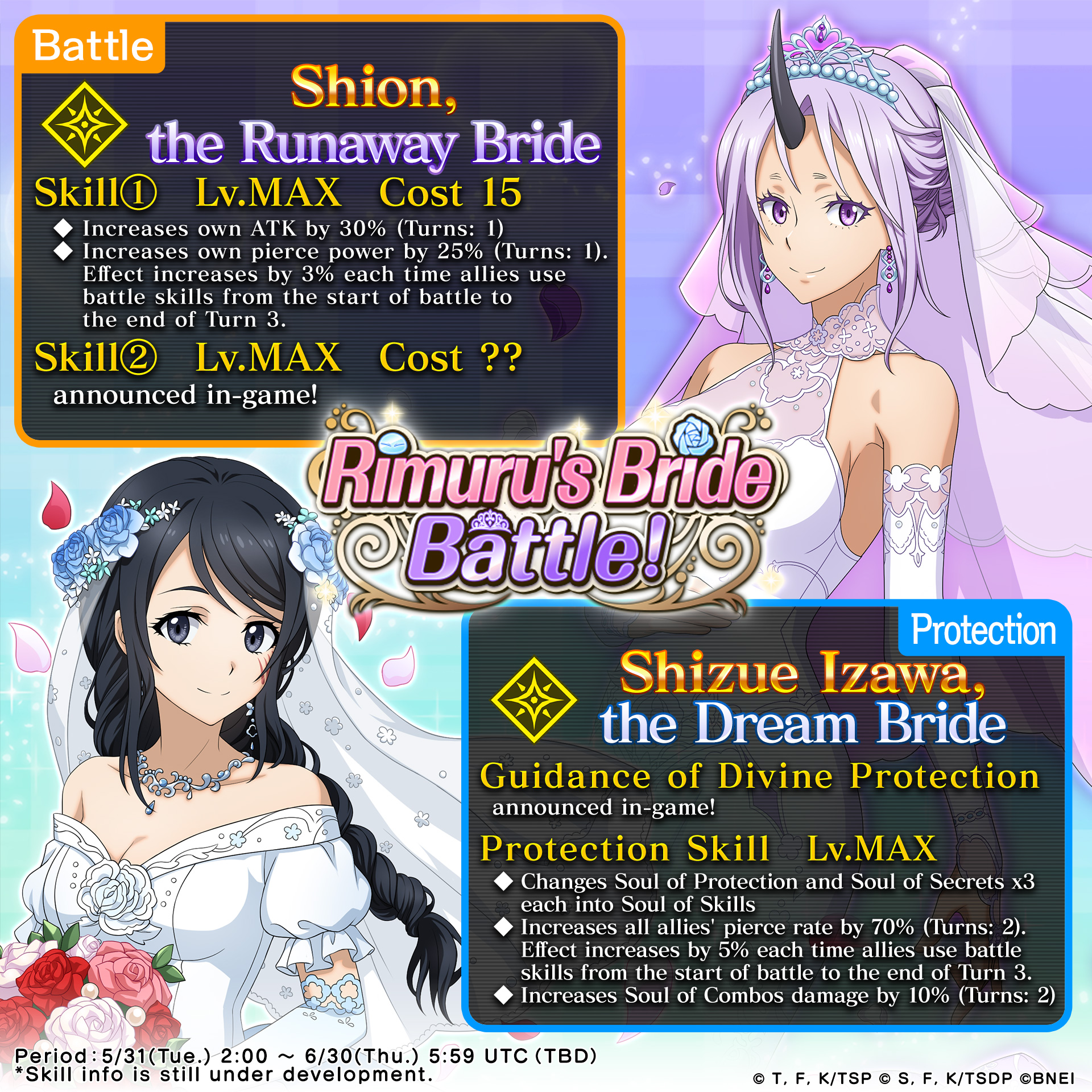 *Visuals are currently under development.
Period: 5/31 ~ 6/30 14:59 (JST)
■Get a load of these bridal gowns!
All 3 characters have their own dresses with their own colorful motifs and quirks! And individual Skill animations to match! Check them out!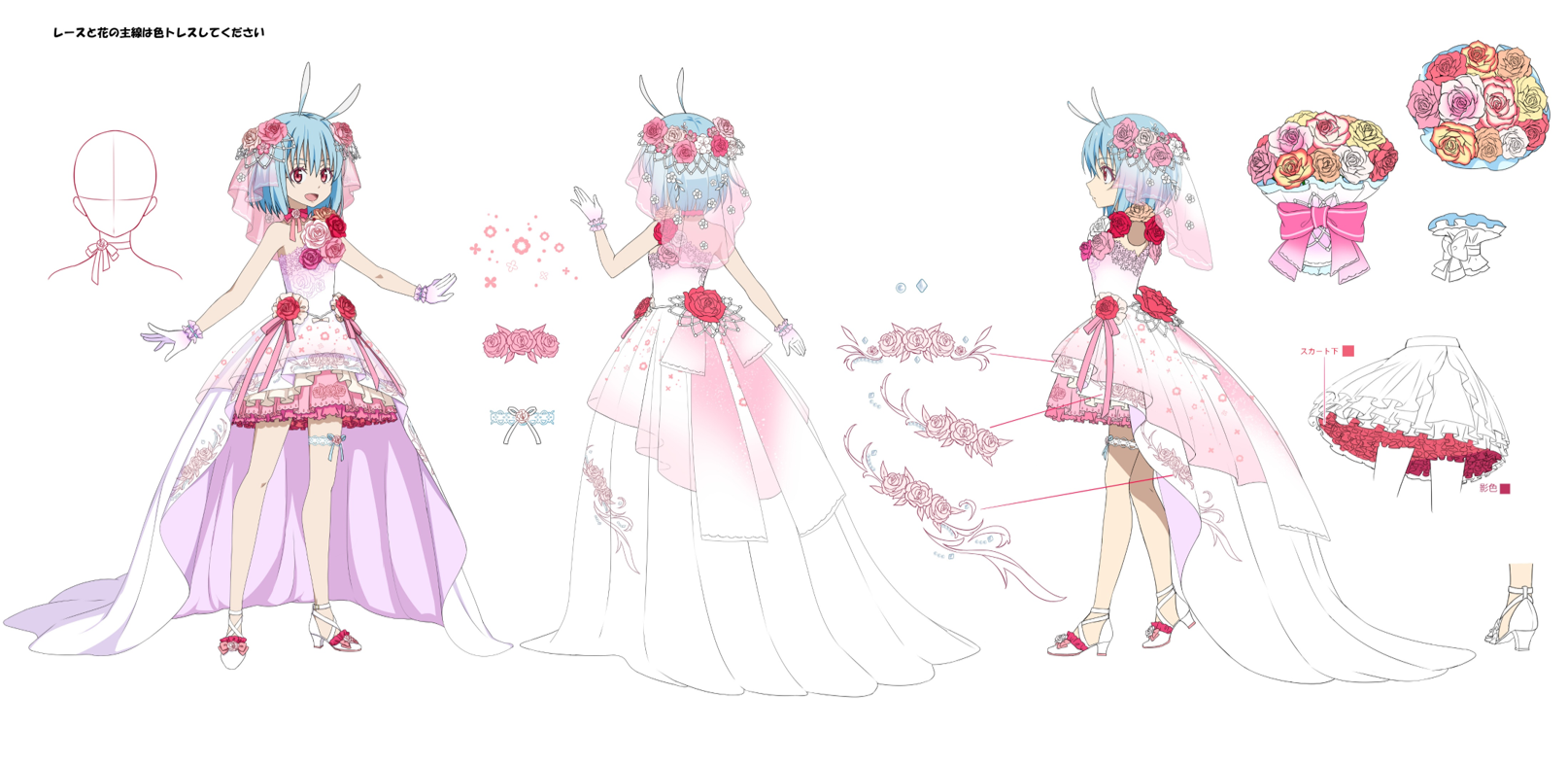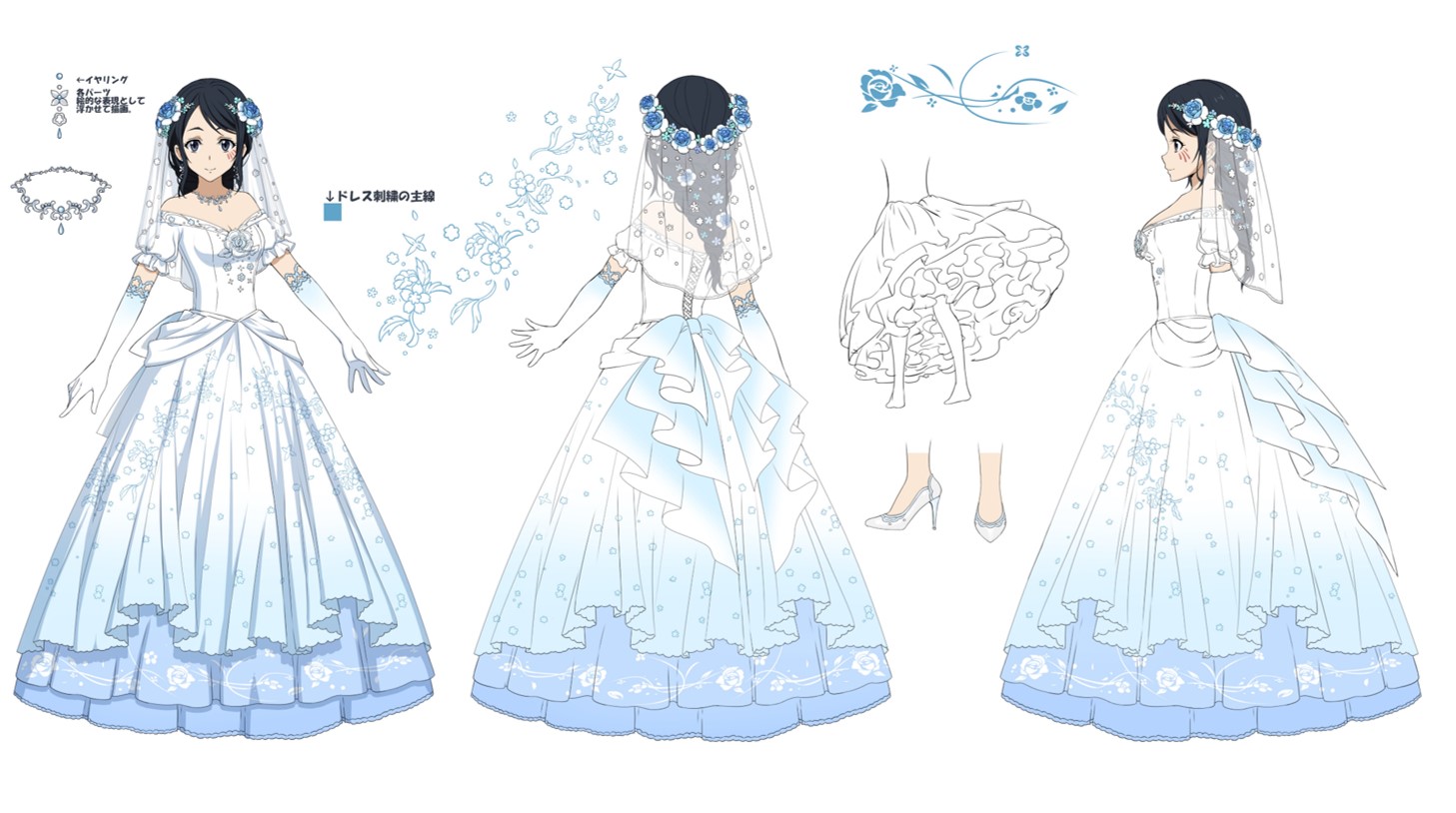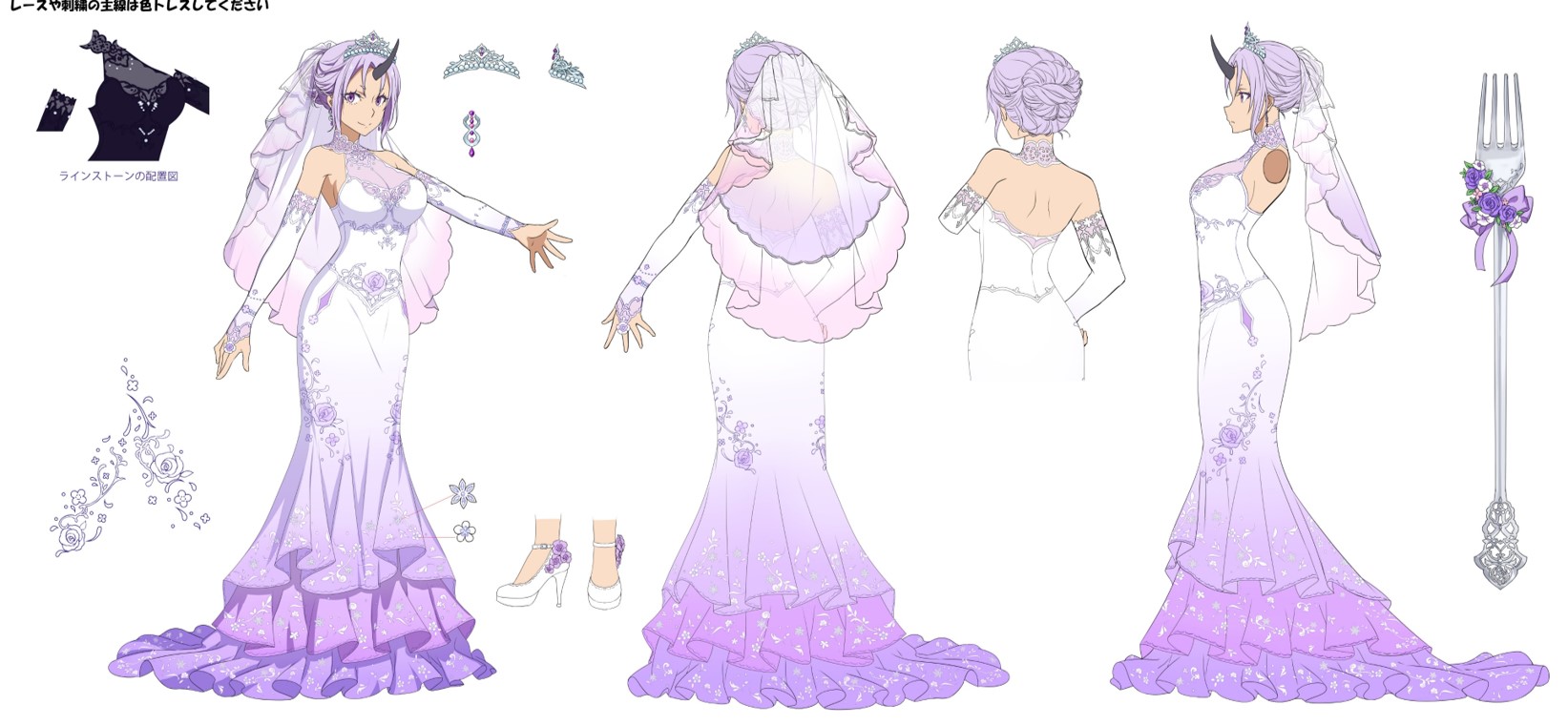 ■ New function update info
<About Powering Up Characters>
-We've added a 6th level to Ability Release, plus new ways to strengthen characters as well as EX Ability Release Quests
-With an extra Protection slot added, now you can make parties with 2 Protection Characters
-Accessories added to the forge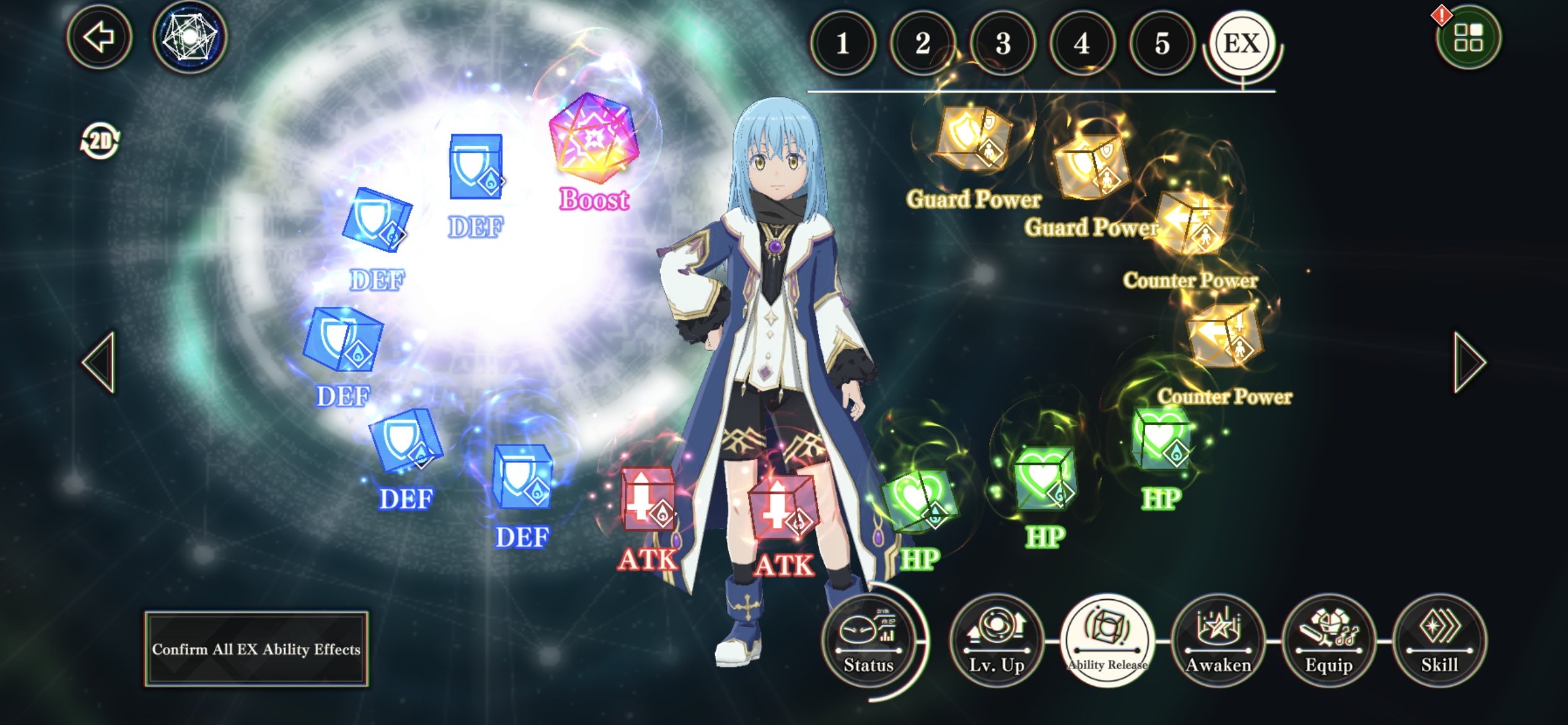 *Visuals are currently under development.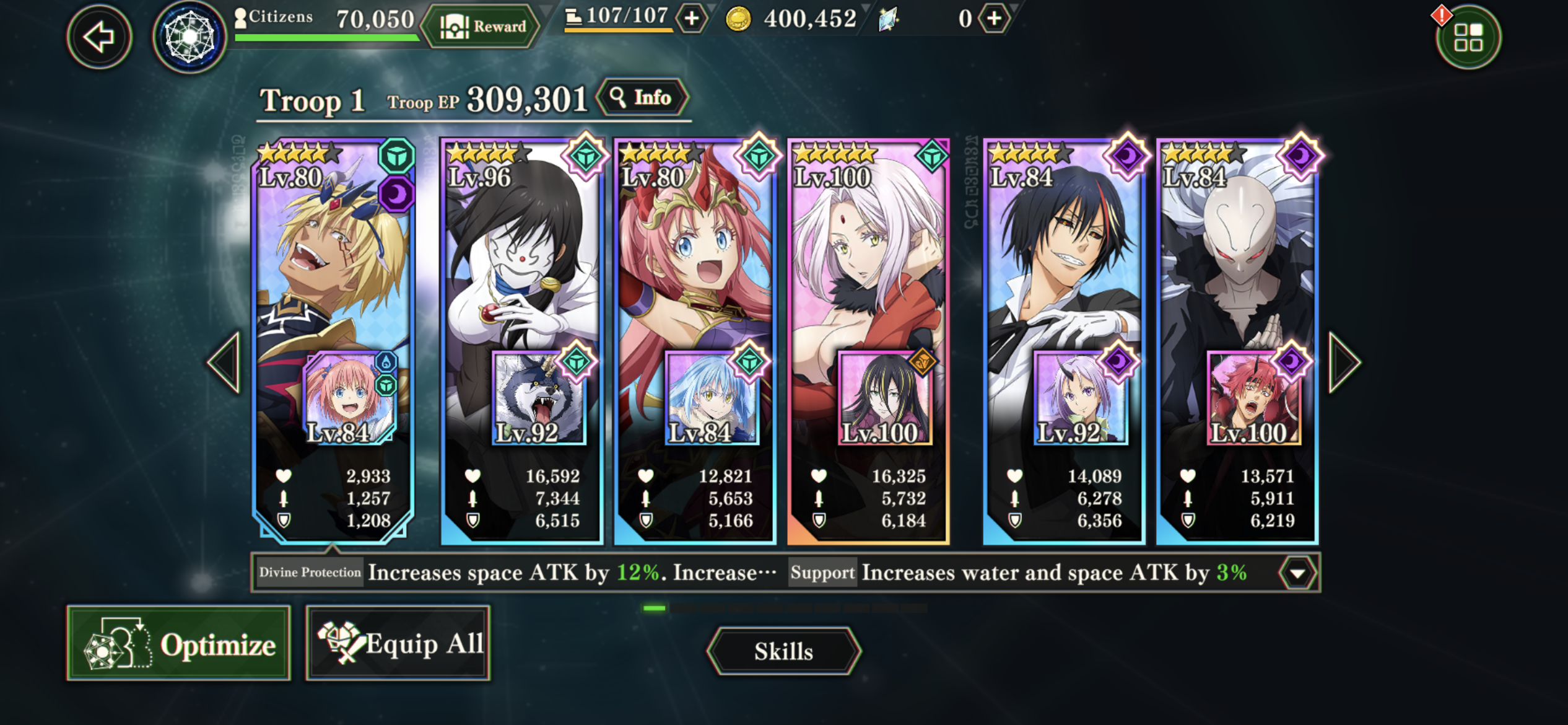 *Visuals are currently under development.
We've added all these new ways to strengthen your party as you can see here!
With the 6th level added to Ability Release, you can pump up your party's stats and improve their EP!
Also, you can now have two Protection characters in your party, paving the way for all sorts of tactical possibilities!
<Loup Loupe>
-35th Floor Unlocked
-New materials added to the Bazaar
-New custom challenges (party restrictions) added to the Tower of Izis

*Visuals are currently under development.
Tower of Izis now goes up to the 35th floor, which means tougher foes to fight!
Plus, we've added a new feature with challenges for players like "Clear Floor 1 without any fire characters," which upon completion will net Chancellors with extra goodies! (Clearing a floor with a specific condition raises drop rates by 4%, and if you hit all 7 conditions, that increase goes up to 50%!)
Clearing certain conditions nets Chancellors special rewards.
Example: Clear 9 conditions to get a Platinum Blacksmith's Hammer

*Visuals are currently under development.
<Other Updates>

-Easier to get an S rating on Predator Battles
-Area expanded with new area-unlocking quests (Up to 9th level unlocked)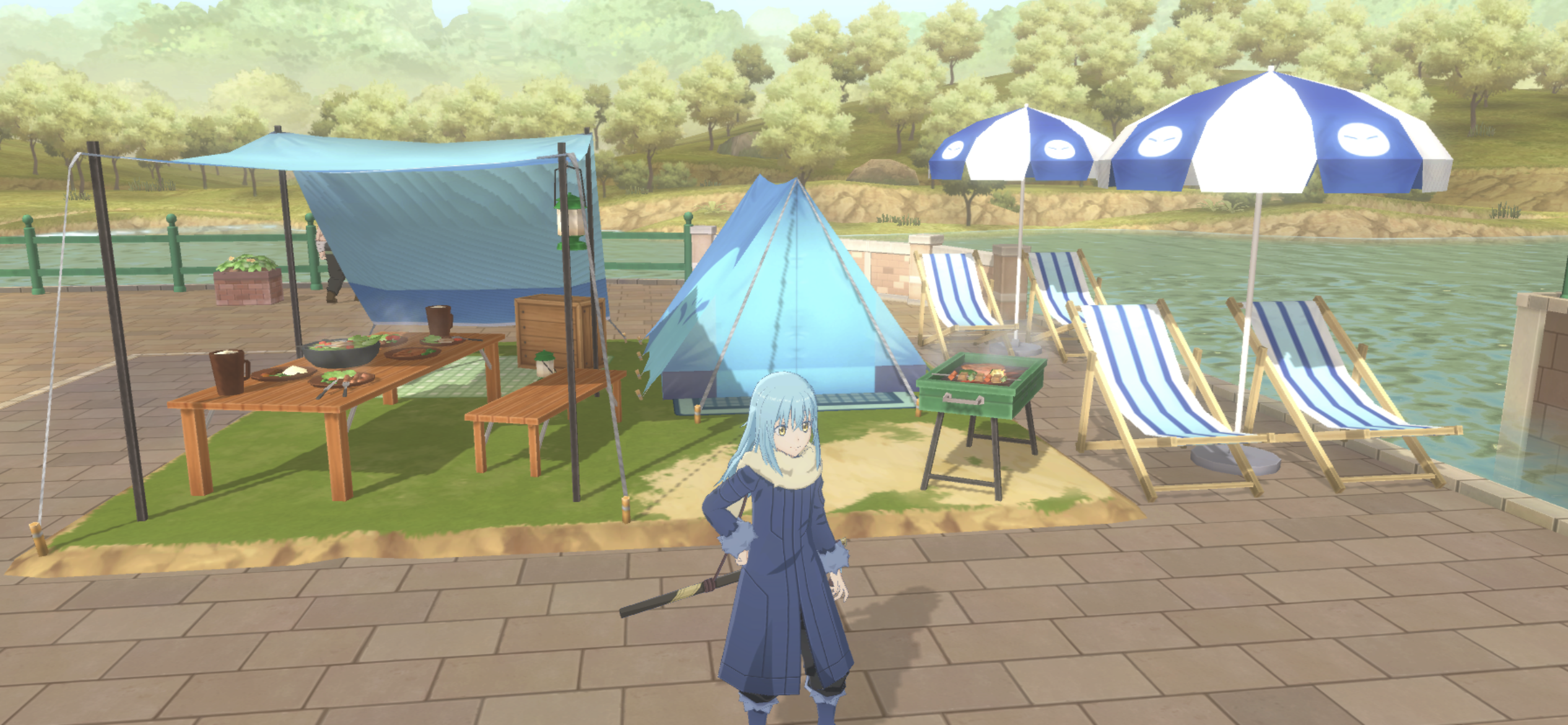 *Visuals are currently under development.
We've made lots of other improvements that'll make Slime IM even more fun for all you Chancellors out there! But we're not stopping here, so let us know what else you'd like to see in the game on social media and we'll look into it!
But those are all the updates we have time to get into today. We hope you'll keep on enjoying Slime IM!
Be sure to send us your thoughts via the comments over social media so our devs know what direction to take the game in!
The Half Anniversary may be at its end, but the ISEKAI Memories team is just getting started!
Onishi