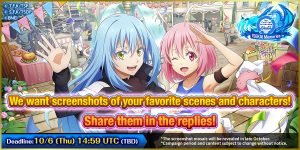 ▼Campaign Overview
・BANDAI NAMCO Entertainment Inc. (hereafter, "our company", "we", "us") is running the ISEKAI Memories Mosaic Art Campaign (hereafter, "the campaign") for our smartphone game, That Time I Got Reincarnated as a Slime: ISEKAI Memories (hereafter, "the service").
・During the campaign, our company is accepting submissions of screenshots from the service, which will be combined into a piece of mosaic art.
We intend to use the resulting mosaic art on the service's official social media, official website, and in a planned promotional video.
・The campaign will run over the following period:
10/3 (Mon) to 10/6 (Thu) 14:59 UTC (TBD)
・The campaign will be run solely by our company. No third parties, including the stores from which the service can be downloaded or their associated companies, are involved in the management of the campaign.
▼How to Participate
During the campaign period, posting a screenshot from the service in a reply to the official social media post soliciting submissions will complete the submission process.
▼Caution
・Submissions to this campaign are subject to our Campaign Terms of Service and our Privacy Policy, which can be reviewed at the link below. Please read and agree to the conditions stated on both this page and the Campaign Terms of Service page before making submissions to the campaign. In the event of contradictions between content and campaign terms stated on this page (under Caution, or elsewhere) and the page linked below, terms stated on this page will take precedence over those on the Campaign Terms of Service page.
Campaign Terms of Service:
https://legal.bandainamcoent.co.jp/terms/campaign
•Please refrain from submitting images that reveal personal information, including those related to your account details.
•Please be aware that images taken outside of the app or edited images are ineligible for submission.
▼Mosaic Art Exhibition Period in the Event of Game Screenshot Use
・If submitted art is used for the mosaic, we plan to exhibit the mosaic art in late October, 2022. That time frame is subject to change without notice.
▼Inquiries
Contact us through the form on the FAQ site linked below with any questions.
https://bnfaq.channel.or.jp/title/2006
We regret that we cannot reply to inquiries regarding whether or not your submitted art will be used in the mosaic.
*Company and product names appearing on this page are the trademarks or registered trademarks of their respective companies.
*Although accurate at the time of publication, the information presented here may change without notice. Thank you for your understanding.