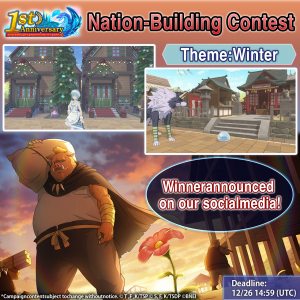 Slime IM will be holding a Tempest Tourism Nation-Building Contest in celebration of its 1st anniversary!
Players can submit screenshots of their nations that follow the predetermined theme.
Winners and staff picks will be announced on this website and ISEKAI Memories Developers' Diary.
We're looking forward to seeing your submissions!
▼Theme
Winter
What does "winter" bring to mind? The holiday season? Snowy scenery?
Build and submit your unique take on winter in Tempest!
▼Winning Award
2 recipients
▼Staff Pick Award
4 recipients
▼How to Participate
During the campaign period:
Submissions via Twitter
①Follow the official Slime - ISEKAI Memories Twitter account (
@SlimeIM_en
).
②Tweet your submission with the hashtag #TempestTourismContest.
Submissions via Facebook
Comment with your submission onto the relevant post.
▼Campaign Overview
・Bandai Namco Entertainment Inc. (hereafter, "our company", "we", "us") is running the ISEKAI Memories Tempest Tourism Nation-Building Contest (hereafter, "the campaign") for our smartphone game, That Time I Got Reincarnated as a Slime: ISEKAI Memories (hereafter, "the service").
・The campaign will run during the period of 12/20/2022 - 12/26/2022 14:59 UTC.
・The campaign will be run solely by our company. No third parties, including the stores from which the service can be downloaded or their associated companies, as well as Twitter or Facebook and their associated companies, are involved in the management of the campaign.
▼Winning Submissions Annoucement
Winning submissions are planned to be announced in February 2023.
▼CONTEST OFFICIAL RULES
PLEASE READ THIS OFFICIAL RULES CAREFULLY. BY REGISTERING FOR OR PARTICIPATING IN THE PROMOTION, YOU AGREE TO BE BOUND BY ALL TERMS DESCRIBED HEREIN AND ALL TERMS INCORPORATED BY REFERENCE. THIS AGREEMENT CONTAINS, AMONG OTHER THINGS, A LIABILITY RELEASE AND WAIVER.
This Official Rules is a contract between you and Bandai Namco Entertainment Inc. ("BNEI", "us", "we" or "our") and applies to your participation in the Promotion. This Official Rules is subject to our
Terms of Service
.
Additional terms provided by us (including, but not limited to, contest rules, codes of conduct, or terms on official website or any tickets, collectively the "Agreement") may also apply. Unless otherwise indicated, any additional applicable terms are incorporated by reference into the Agreement. In the event of a conflict between this Official Rules and any additional terms, the additional terms shall govern.
1. ELIGIBILITY.
This contest ("Promotion") is open to individuals who are at least twenty (20) years of age as of the start date of the Promotion. Employees of Sponsor and its affiliates, vendors, and their respective immediate families are not eligible to enter this Promotion. THIS PROMOTION IS VOID WHERE PROHIBITED BY LAW.
2. CONDITIONS OF PARTICIPATION.
The Promotion is subject to the Agreement and the details on the Promotion will be posted on the Promotion site. By participating and/or accepting a prize, you agree: (i) to be bound by the Agreement; (ii) to waive any right to claim ambiguity in the Promotion or the Agreement; (iii) that Sponsor may prohibit a participant from participating in the Promotion if it, in its sole discretion, determines such participant is attempting to undermine the legitimate operation of the Promotion in any way; (iv) the prizes are provided "AS IS" and WITHOUT WARRANTY OF ANY KIND, express or implied; (v) to release Sponsor, and its parent, subsidiary, and affiliated entities together with their respective directors, employees, officers, licensors, and agents (collectively, the "Released Parties") from any and all claims, liability, loss or damage including but not limited to injury in connection with awarding, receipt and/or use or misuse of prize or participation in the Promotion; and (vi) that Released Parties are not responsible for any printing, typographical, administrative or technological errors in any materials associated with the Promotion.
3. PRIVACY POLICY.
Any information provided by you will only be used for administration of the Promotion and in accordance with Sponsor's privacy policy located at
http://legal.bandainamcoent.co.jp/privacy
.
4. SPONSOR.
Bandai Namco Entertainment Inc. 5-37-8 Shiba, Minato-ku, Tokyo, 108-0014, Japan.
©Bandai Namco Entertainment Inc.
▼Caution Regarding Twitter and Facebook
・Entrants in this campaign must abide by Twitter and Facebook's rules and Terms of Service.
* Company and product names appearing on this page are the trademarks or registered trademarks of their respective companies.
*Although accurate at the time of publication, the information presented here may change without notice. Thank you for your understanding.