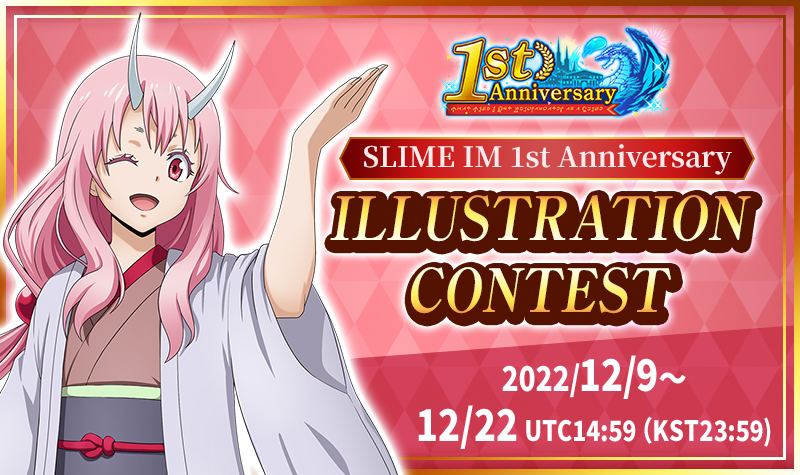 Send us your illustrations inspired by TenSura or ISEKAI Memories.
This contest will run simultaneously worldwide!
There will be a bracket for entrants from Japan, and one for international entrants. In each bracket, 1 winner and 4 staff picks will be selected from each category.
Judging will be thorough, and we have great prizes in store for the winners.
Winners and staff picks will be announced on this website and in a livestream.
We can't wait to see your artwork!
Category Themes
Outfit Category
Tailored by Shuna: Weekend Outing Attire
Pick any character. What outfit would you pick for your fave's day off?
* When you submit your outfit design, make sure to tell us which character you'd like to wear it.
* You can draw the outfit alone, without the character, if you wish.
Dessert Category
Dessert You Want Your Fave To Eat
Treat your favorite character to dessert!
* When you submit your illustration, make sure to tell us which character you'd like to receive it.
Prizes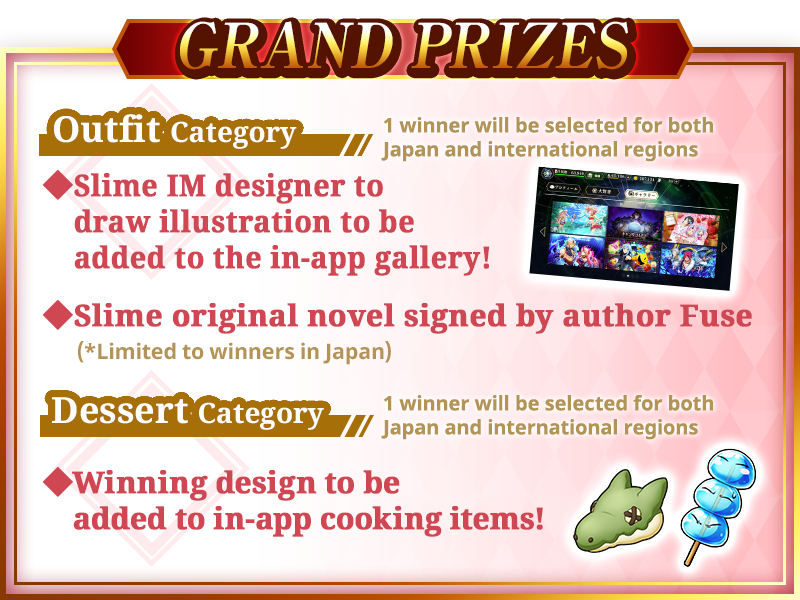 * Prizes will be awarded to the 1st place winners.
* We cannot accept input regarding the in-game versions of contest entries.
* We plan to add the contest-related items to the game sometime from summer 2023 onward, but the schedule may change without notice.
* In-game implementation for Japanese and international winners may not occur at the same time.
Entry Format
File formats: JPG or PNG files only.
File size: Up to 5 MB.
* No restrictions on canvas size or orientation.
How to Participate
During the campaign period:
① Follow the official ISEKAI Memories Twitter account (
@SlimeIM_en
).
② Tweet your illustration with the hashtag #SlimeIMContestOutfit or #SlimeIMContestDessert.
* Make sure to specify which character your entry is intended for.
* You can submit as many entries as you want from the same account. As long as they conform to our submission guidelines, all entries submitted while submissions are open will be considered.
* Only submit your own original work.
CONTEST OFFICIAL RULES
PLEASE READ THIS OFFICIAL RULES CAREFULLY. BY REGISTERING FOR OR PARTICIPATING IN THE PROMOTION, YOU AGREE TO BE BOUND BY ALL TERMS DESCRIBED HEREIN AND ALL TERMS INCORPORATED BY REFERENCE. THIS AGREEMENT CONTAINS, AMONG OTHER THINGS, A LIABILITY RELEASE AND WAIVER.
This Official Rules is a contract between you and Bandai Namco Entertainment Inc. ("BNEI", "us", "we" or "our") and applies to your participation in the Promotion. This Official Rules is subject to our
Terms of Service
.
Additional terms provided by us (including, but not limited to, contest rules, codes of conduct, or terms on official website or any tickets, collectively the "Agreement") may also apply. Unless otherwise indicated, any additional applicable terms are incorporated by reference into the Agreement. In the event of a conflict between this Official Rules and any additional terms, the additional terms shall govern.
1. ELIGIBILITY.
the Promotion. Employees of Sponsor and its affiliates, vendors, and their respective immediate families are not eligible to enter this Promotion. THIS PROMOTION IS VOID WHERE PROHIBITED BY LAW.
2. CONDITIONS OF PARTICIPATION.
The Promotion is subject to the Agreement and the details on the Promotion will be posted on the Promotion site. By participating and/or accepting a prize, you agree: (i) to be bound by the Agreement; (ii) to waive any right to claim ambiguity in the Promotion or the Agreement; (iii) that Sponsor may prohibit a participant from participating in the Promotion if it, in its sole discretion, determines such participant is attempting to undermine the legitimate operation of the Promotion in any way; (iv) the prizes are provided "AS IS" and WITHOUT WARRANTY OF ANY KIND, express or implied; (v) to release Sponsor, and its parent, subsidiary, and affiliated entities together with their respective directors, employees, officers, licensors, and agents (collectively, the "Released Parties") from any and all claims, liability, loss or damage including but not limited to injury in connection with awarding, receipt and/or use or misuse of prize or participation in the Promotion; and (vi) that Released Parties are not responsible for any printing, typographical, administrative or technological errors in any materials associated with the Promotion.
3. PRIVACY POLICY.
Any information provided by you will only be used for administration of the Promotion and in accordance with Sponsor's privacy policy located at
http://legal.bandainamcoent.co.jp/privacy
.
4. SPONSOR.
Bandai Namco Entertainment Inc. 5-37-8 Shiba, Minato-ku, Tokyo, 108-0014, Japan.
©Bandai Namco Entertainment Inc.
Caution Regarding Twitter
・Entrants in this campaign must abide by Twitter's rules and Terms of Service.
* Company and product names appearing on this page are the trademarks or registered trademarks of their respective companies.
* Although accurate at the time of publication, the information presented here may change without notice. Thank you for your understanding.